SLING BAG | SLING BACK BAG | SLOUCHY BAG | SANDHILL SLING BAG
A sling bag is a bag that's designed to be worn comfortably across the chest or back and secured to the body with a cross-shoulder style strap. The buckle tends to be off-center, the straps connect diagonally, and the body of the bag tends to have an oblong shape (we say "tends to" because there are quite a few exceptions, which we'll get into later).
Yes, that's one of the definitions of the sling bag that I found.
This time I made this sling bag in the "Harry Potter" theme fabric because my daughter loves this theme and canvas for the exterior, cotton for the interior. The pattern of the bag is from Noodlehead, Sandhill Sling Bag, a compact hands-free sling-style bag. If you want to buy the pattern just click here.
A sling bag will change our way of carrying stuff, at least it makes us easier carrying the stuff, really! That was also one of the reasons why I bought this pattern and make this bag as soon as possible after I bought the pattern.
Sling Bags Are Perfect for Your Day Trip Essentials
This Sandhill is one of the perfect accessories for a day trip. As we know for a trip we need some essential things like a phone, keys, a wallet that should be easy to grab out and put in several times, and Sandhill fit for it! I really love this!
With this back bag, we can wear on the front and one on the back, so this bag also perfect to put in our flight essentials. This sling bag becomes a great place to keep your pocketable items, especially while in transit. Just toss all of your stuff in your sling.
For Sandhill pattern, there are features that I've got from Noodlehead, which are:
two fun views to sew! Choose a zippered front pocket (View A) or a patch pocket with a flap (View B)
large interior pocket
zip-top closure keeps your important belonging secure
adjustable strap
perfect for carrying your everyday needs without getting in the way
THAT'S PERFECT!
So let's just toss all sorts of fun goodies into our sling bag just because we can! Yes, sling bags provide us easy access to our things inside! We can wear this bag to festivals, exploring places, parks, hiking or other outdoor activities, everyday use, and many more! Have fun!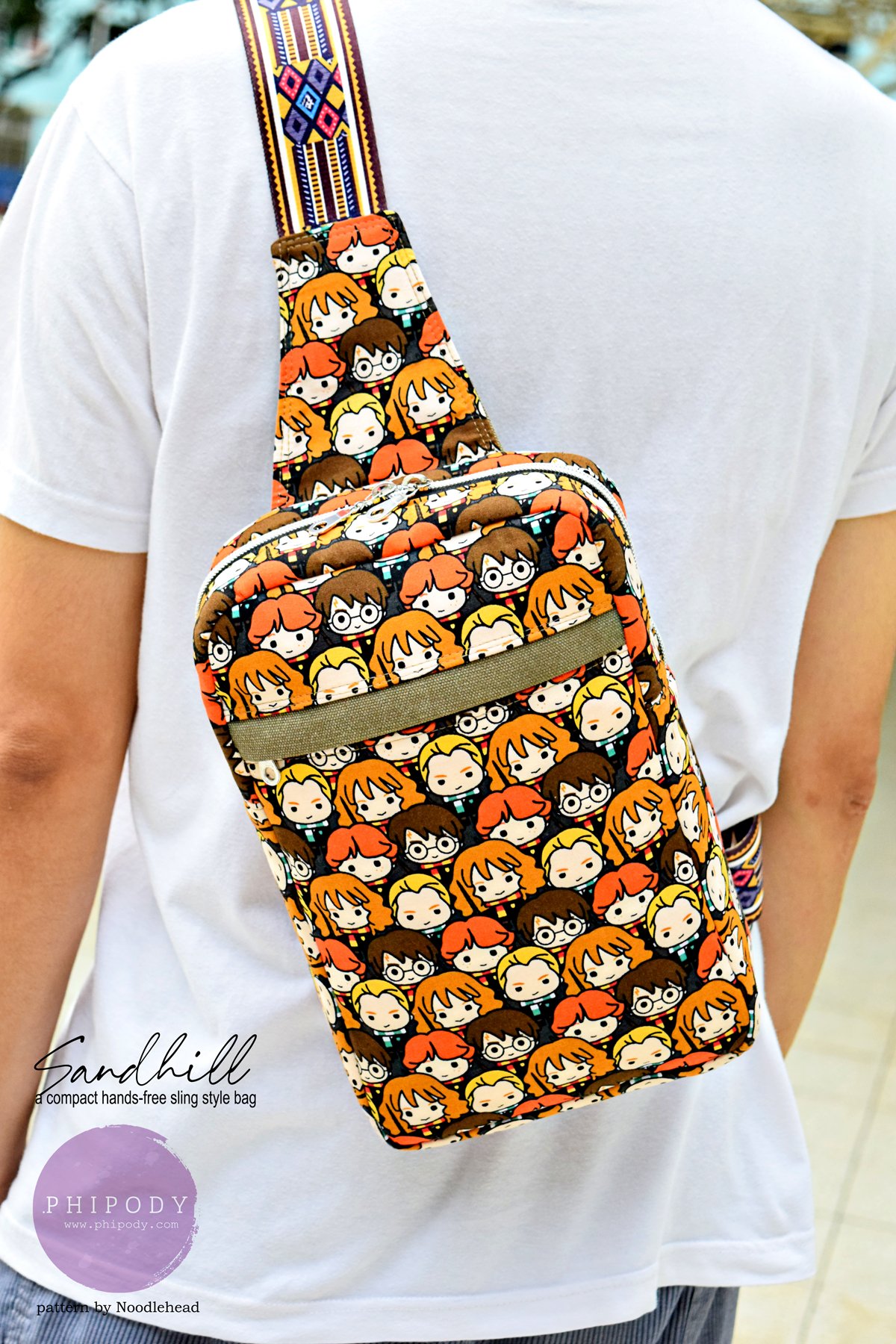 FYI, the "Harry Potter" fabric I bought at byTheYard 😉
I love handmade, I buy handmade, I make handmade and I sell handmade. Handmade is so special 🙂